The Specialists of APS – Site Supervisor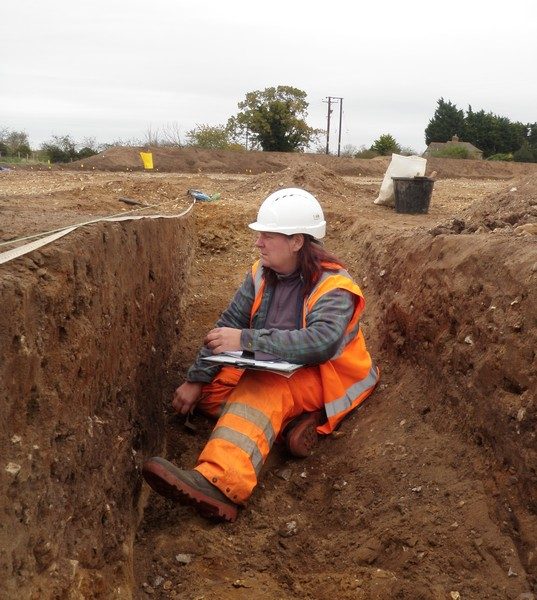 At APS, our expertise is as varied as our staff members.  So over the next few weeks and months we are going to reveal who we have working behind the scenes – out on site – and how we work together to deliver the high quality projects in and around Lincolnshire that we are known for.
First up we have one of our most experienced archaeologists, Fiona Walker:
Along with the rest of our field archaeologists, Fiona is one of the first people into the office every morning.  Her experience and expertise often means that she leads a team of our archaeologists out on site, and so is often found making sure that everything is in order for the day.
At the moment, her biggest project is running and excavating at one of our quarry sites, which, under her guidance, has produced a number of stunning finds and surprising discoveries.  As well as the archaeology she also keeps an eye on everybody else, ensuring a safe and happy working environment, as well as overseeing the development of our trainee archaeologists.
Experience:
HND in Practical Archaeology
Degree in Archaeology at Southampton University
Working in field archaeology for over 30 years.
Speciality:
Particular interest in prehistoric archaeology, especially excavating flint scatters
Started archaeology with a specialist in the Roman military period
Why do you work for APS?
"I started on my first archaeological site when I was just four years old, and have always enjoyed it as a hobby.  I never really considered it as a job.  But now I can look back on a long career as an archaeologist, and it has suited me completely."
"I have worked for APS for a long time, and I don't think I will ever work anywhere else now.  We have a lot of work on at the moment which keeps me busy out on site and we have started traineeship program as well.   I enjoy leading these new teams and ensuring the archaeology is completed to a high standard"