How do we know what we know?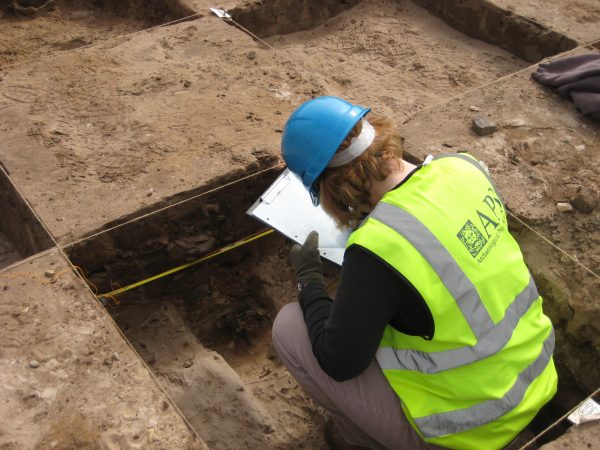 Ongoing training is key to developing a skilled and efficient workforce.  As such this is something that we are proud to invest in.  Within the last five months alone our staff and volunteers have benefited from a variety of courses and workshops.  This helps to ensure that we remain top in our field.  Find out about a selection of them below:
Health and Safety – All Staff
Working out onsite can result in our archaeologists coming into contact with unsafe situations or materials.  Therefore keeping everyone updated on their health and safety training is paramount.  Recently our staff have been updating their knowledge with courses in manual handling, working at height and asbestos awareness.
The trainer reminded us of safe lifting techniques in the first workshop.  Indeed, we enjoyed debating how we can use safe lifting techniques in archaeology – especially when we have to lift objects like sample bags and stones out of a trench.  The asbestos awareness training was also useful, especially for our younger members of staff.  It was a timely reminder on how even a little asbestos can cause catastrophic damage.
Historic Farm Buildings Group Conference – Neil Parker – Senior Project Officer
As a member of the Historic Farm Buildings Group, I was able to attend their conference held in the Peak District in September.
Highlights. Tour of late 18th-19th century model farm in land enclosed from moorland on the edge of Chatsworth Park, built to an overall classical design with historic apotropaic marks and other features.
Bubnell – An estate farm which has traces of the medieval hamlet that it developed from, with a wide range of building types.
Edensor – Walk to its field barn landscape, where the Chatsworth Estate has been active in the restoration of field barns for continued use and for their amenity and habitat value.
'Celebrating our Woodland Heritage' Conference – Lydia Hendry – Community Archaeologist
On the 17th November 2018 Bradford University and Pennine Prospects hosted a woodland conference, which I was encouraged to attend.  This was part of a Heritage Lottery Funded project exploring the history of the Pennine woods.  I was particularly interested in finding out how they helped local people get involved in the project, and hear about what they had found so far.  Being only six months into the role at the time, it was also a good chance to meet people working in the same area and share ideas.
Talks covered a number of issues from many different experts.  Archaeologists explained how community projects worked in woods; education professionals revealed how children were discovering woodland heritage through forest schools; rangers discussed the issue of information being accessible for them and the ecologists challenged our knowledge of medieval woodland management.  However, everyone agreed that woodland archaeology was often overlooked.  As such there is the chance for a great many more projects on the subject.  Charcoal burning, for example, seems to have been a huge and long lived industry.  A history that has left subtle marks all over our woods.
Paleo-radiology – Maria Leroi – Volunteer
I was attending the course to further my knowledge of using x-ray and other imagery in interpreting diseases in human skeletal remains. The course was thorough in its content, but still clear enough to follow. We covered a wide variety of different types of diseases and how to recognise them in x-rays, as well as differentiate between similarly presenting diseases. The course did not disappoint. I left with so many ideas for future work relating to x-rays as part of some of my research projects. It was definitely worthwhile and a great networking opportunity as well.